The Biggest Instagram Myths That Stop Your Business Growth
March 13, 2021
Executive Summary:
Instagram is a large social media platform.
The business accounts are very beneficial.
BuyBetterSocial can help you get more followers.
Instagram has become very popular in the last few years. That is because the world has recognized the need for coming closer and forming connections and bonds that last forever. Instagram is an emerging social networking platform which has billions of users. These users have their accounts with Instagram, and this enables them to post content on it. One can post pictures and videos which remain on the profile forever or post stories which remain for 24 hours. The reach of Instagram is far and wide. It has made people reach out to people of various regions, cultures and ideologies.
Instagram in Business
There are three types of accounts on Instagram, viz. private, creator and business. The private account is for the ones who want to keep their posts limited to their followers only.
The creation account is new inception which is designed especially for the content creators. It gives them the liberty of using new techniques to create effective content.
The business account is for those who are interested in social media marketing or Instagram publicity. This account is open for all and anyone can view the posts and stories of this account.
Since there are no barriers to privacy, the reach of this account is the maximum. Hence, the content posted from this account will garner a vast viewership.
Promotions and marketing are crucial in any business. Instagram plays a massive role in that by bestowing many features on a business account.
Myths of Instagram Business Account
The business account of Instagram is a treasure of features and advantages. However, these features are surrounded by some myths that need to be busted. Here are some of them, along with factual explanations.
1. Switching to a business account harms the engagement:
It is not entirely correct since the business account has a greater reach than any other type of account.
If you decide to switch to a business account, you will get more features which will give you the insights into how your content is performing.
There are some instances where some users have experienced a dip after switching to a business account, but it is short-lived.
The advantages of a business account are far more rewarding than the probable initial dip.
2. Instagram shadowbans business accounts:
It was a rumor which was floating since the past few days that Instagram is shadowbanning a lot of business accounts because of the overuse of the same hashtags and repetitive comments.
However, the Instagram team released an official statement clearing the air that they are not planning to do any such thing. They shadowban only those accounts which violate Instagram's terms of usage.
If you post genuine, authentic and correct content, there is no reason for Instagram to shadowban your account.
3. Instagram steals content:
It is an old myth which suggests that Instagram steals the content you put up on your account and uses it in whichever way it wants.
But, there the fact is that once you create an account and sign-up, you give Instagram permission to collect your content and communications to provide a better user experience.
They take this content only to help you find better posts and content you wish to find, and they do not intend to misuse it in any manner.
4. Instagram story views are facing a decline:
Major Instagram influencers were making statements that the viewership of their Instagram stories is facing a dip.
This thing was initially perceived as a threat to a business account, but, later, Instagram revealed reality.
According to that, several people use bots which automatically view the stories of several users.
With Instagram having cracked this malpractice, the viewership was on a decline.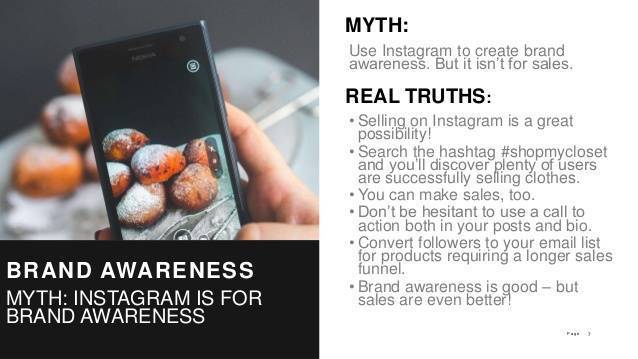 Importance of BuyBetterSocial
To gain maximum viewership and publicity on Instagram, one needs to have more followers.
Gaining followers through other means can be a tough task, but BuyBetterSocial eases this process for us.
Instagram is a treasure for digital marketing. One needs to bust the myths about the business accounts on Instagram and focus on their pros.